Join the Exeter Memories
Group Page
Exeter's Garages and Motor Dealers
Page updated 1st August 2013
Back to Transport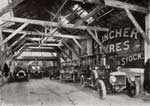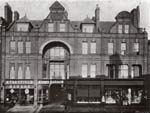 Standfield and White's workshop and garage circa 1910
In the nineteenth-century, Mr. Moreton-White's firm Godbeer and White were coach builders who built the Sheriff's Coach that is still used by the Mayor at civic events. The bushes of the coach are stamped 'Standfield - Exeter.' The firm evolved into Standfield and White towards the end of the century. By 1905 they were repairing and selling motor cars. Their garage and workshops were situated in Sidwell Street, approximately where Iceland can now be found.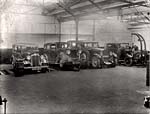 Standfield and White's workshop 1930s
This workshop in the 1930s, was destroyed along with the garage in May 1942 by the blitz. After the war, Standfield and White used their bomb site in Sidwell Street for car sales. By 1973 they had showrooms at 23/24 Queen Street selling Rootes Group vehicles - Humber, Hillman, Sunbeam and Chrysler cars and at the County Garage, Honiton Road.
Shepherd and Son in Longbrook Street 1940s
Shepherd's were arguably the first car repair and maintenance garage business in Exeter, dating from before 1901. During the 19th century they were engineers and arterial well borers. There first garage was in Longbrook Terrace, but they soon established themselves in Longbrook Street. They were still occupying the garage in 1956. By 1967 it was Longbrook Motors (Dunns Motors Ltd). It became North Devon Tyres before it was closed and demolished in 2008.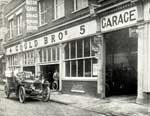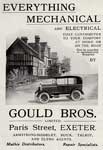 Gould Brothers - circa 1910
Another of Exeter's earliest garages, Gould's had several premises around the Eastgate and upper Southernhay area. They registered the first taxi to be used for carrying passengers in Exeter, on 1st November 1904. The advert, left, is from 1929 when they were based in Paris Street. They were still trading at the end of the 1950s from Blackboy Road. See photo below of their garage in Heavitree Road.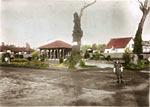 Countess Wear Service Station - circa 1935
This filling station on the corner of the Exeter by-pass and the Topsham Road was probably built about 1935 when the first section of the Exeter by-pass was opened. It was a modern filling station for its time, with an open forecourt. The AA man is strategically positioned to help the stranded motorist. The filling station still exists, with a modern, steel canopy over the pumps.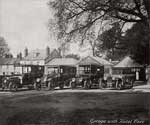 The Royal Clarence Hotel customer garage - circa 1927
The Royal Clarence Hotel had its own parking and garaging for its guests by the 1920s. Here a line of limousines and sports cars are positioned in front of the garages, probably by Trinity Green opposite the Royal Devon and Exeter Hospital in Southernhay.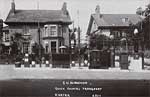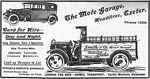 The Mote Lodge Filling Station, Heavitree - 1920s
1923 Harry Edmunds Courtenay filling station
1939 George William Blanchon motor engineer
1956 Arthur Lionel Underhill filling station.
1967 The Mote Service Station under J S S James
1973 The Mote Service Station
In the early 1930s the garage was a filling station, and the base for an animal transport business. They also offered driver tuition, hired cars and lorries, and let lock up garages.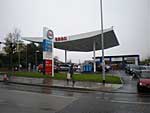 Tesco Filling Station, Heavitree - formerly Mote
The site of the old Mote filling station is now run by Tesco's and incorporates a Tesco Express.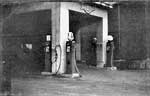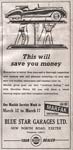 Maudes Garage in New North Road circa 1934
Maudes originally had a garage in Paris Street when they were dealers for Clyno Cars. In 1934, having moved to New North Road, the business was owned by Mr Pettit who took advantage of the Theatre Royal next door for publicity stunts - elephants from shows were marched into the showroom from Stable Yard between the theatre and the garage. Maudes were still trading in 1948 from the premises when it was known as the City Garage selling Jaguars. By 1956 it was trading as Blue Star Garages Ltd., (advert right) who were Renault agents by 1967. In 1973, Blue Star Garages also had a garage in Honiton Road. Photo and elephant story Kevin Peters.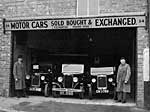 Portus Car Dealers, Okehampton Street - circa 1938
This garage was run by Thomas Oliver Portus and his son, William Hodder Oliver Portus. The directories in 1938 indicate the garage next to the Seven Stars Hotel, although the street number in the photograph, places the garage a few doors further up Okehampton Street. Photo courtesy of James Oliver Portus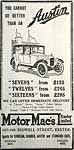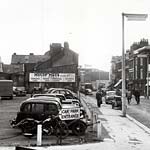 Motor Macs advert, Sidwell Street
Based at 167-169 Sidwell Street in 1923, Mac Motor's were a victim of the blitz in May 1942, although they continued to trade from Sidwell Street after the war. In 1956 they are still in Sidwell Street as Rolls Royce, Bentley and Standard Triumph dealers. In 1967 they had moved to Paris Street as a result of the rebuilding of Sidwell Street. By 1973, a Mac's Motors was based in Okehampton Street, although it is not known if there was a connection. The photo, right, shows Motor Macs in Sidwell Street – the carpark is now the Amber Rooms and Somerfield.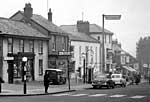 Thorn's Garage, Heavitree 1950s
Thorn's Garage started as a china, ironmonger and cycle agent in the first war. By 1956, John Thorn and Sons were an ironmongers, radio and television engineers and motor engineers, with five Shell pumps between the shop and Fore Street, Heavitree.  The 1967 Kelly's indicates that Thorn's have become Lloyd's Bank. In the 1940s and 50s many people had radios powered by accumulators - they were a glass container, 6 inches square, 9 inches tall, with a carrying handle. Thorn's was a charging point for the batteries costing 4d for a weeks charge and small boys would collect the batteries for their neighbours for a small fee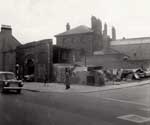 Cowick Street Motors 1950s
The façade of Cowick Street Motors is the old entrance to Devon County Prison for Debtors whose history can be traced back to 1675. In 1916, Abram Davey and Sons were established as cycle and motor agents in the front of the old prison site, utilising the handsome façade. They were still trading in 1939 although they appear to have concentrated on bicycles. Up until 1958 the site was owned by a family known as Lampo who used it to park cars and sometimes, scrap them. John Gordon Helliar purchased the site in 1958 and founded Cowick Street Motors. John Helliar Senior retired in 1975 and his son, also John, took on the business selling good, low mileage cars. Cowick Street Motors is still a family business. The top photo shows the site just before John Helliar purchased it. Photos John Helliar.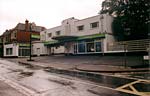 Kastner Garage, Magdalen Road 2000
The old Kastner Garage in Magdalen Road is a fine example of an art-deco garage, dating from 1933. Kastner's took over the garage in 1975. They moved out in the early 2000s. The handsome building has had a sensitive conversion to offices and apartments and is now one of the most attractive buildings in Magdalen Road.
Central Garage, Topsham
Originally the old market building in Topsham, the premises became Gould's Motor Garage & Works in 1915. By 1939 the premises were the Topsham Garage, with Reginald Mingo as proprietor. During the war the Home Guard were based in the building. It became Central Garage in 1970 with Michael Gould as the proprietor.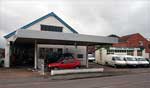 A and R Motors, Church Road, Alphington
A R Motors was Harry Webbs from before 1930 to at least 1967.  Iet is now A and R Motors.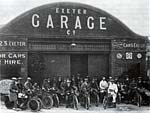 The Exeter Garage in Heavitree Road
This photo, from about 1920 shows a motorcycle gathering at the Exeter Garage. The site was previously that of Edward Rogers Thomas & Sons, sculptors, and was close to the Exeter Corporation Transport Office and bus depot, which were the sheds for the electric trams up until 1931. The garage was replaced by the now familiar Pyramids swimming pool, which opened in 1941.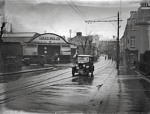 Gould Brothers in Heavitree Road
This photo show that by the late 1920s, the Exeter Garage had become a branch of Gould Brothers, who were already established around Eastgate and Southernhay. Notice the building on the right is now Neptune Fish and Chips.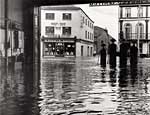 Pikes Garage during a flood
Sidney Philip Pike ran a confectioner and refreshment house in 1912 in Alphington Street and by 1914, he had established a bicycle and motor cycle business. P Pike and Co Ltd, appeared for the first time in Kelly's Directory in 1919. They became Austin dealers during the 1930s. During the war their workshops were used to repair Spitfires. The business disappeared when Alphington Street was demolished in the late 1960s. The photo, shows one of their premises awash with water, probably during the October or December 1960 flood.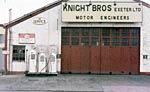 Knight Bros, Haven Road
In 1935, Knight Brothers were trading from Haven Road as haulage contractors. By 1956 they were motor-engineers and dealers for Vauxhall and Bedford, with showrooms in South Street. They were still trading in 1973. The building has been demolished to be replaced by residential housing. The pedestal that supported the pumps was the last piece to go. photo Alan H Mazonowicz.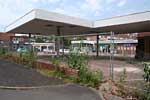 Devon Motors, Cowick Street
Before the war, this site was a private house or shop. The first mention in a directory was in 1948 when it was listed as H P Hoer, motor-car engineers. Exe Service Garage was listed in 1952 with Sid 'Dingle' Davey as the proprietor. By 1956 the name was changed to Devon Motors, still with Davey as the proprietor. Davey was also a speedway rider at the County Ground, and heavily involved in other forms of motor sport. Devon Motors was a Ford Agent. In the latter years of the 20th-century, the garage became just a filling station. It closed and at present, the site is being redeveloped as housing.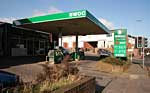 Foxhayes Garage, Exwick
There has been a garage and filling station on the corner of Winchester Avenue and Exwick Road from at least 1956. In June 2008, the filling station had the most expensive petrol in Britain at £1.99 per litre. A planning application to replace the premises with residential accommodation was made during the same year, and only the workshop remains open.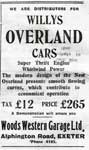 Hi Q in Alphington Road
This site appears to have been private housing in 1939, so it may have suffered bomb damage during the war. By 1956 it was Wood's Western Garage Ltd and was still listed in 1973. The date of the advert is not known. The premises are now Hi Q Tyres.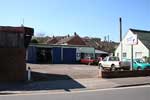 Wonford Garage, Wonford Street
The layout of this vehicle workshop indicates that it was once a service station. Situated off a main road, it supplied the needs of the motorist in Wonford Street. In 1956 it was the residence and site for J K Pritchard and Sons, timber fellers. By 1959, through to at least 1967, it was the Wonford Service Station, run by Mr J K Pritchard.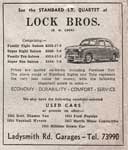 Lock Brothers advert 1956
Lock Bros., were trading in Ladysmith Road/Goldsmith Street from at least 1956. They started as dealers for Standard cars as well as having a range of second hand vehicles. They became Triumph and Singer dealers and by 1973, Saab dealers. The site, right, became Exeter Motors.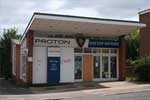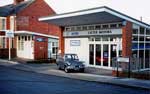 Lock Bro., and Exeter Motors in Ladysmith Road
Originally trading as Lock Bros., from this site, a purpose built garage was constructed, probably in the 1960s. The garage became Exeter Motors selling Proton cars, but the premises were empty when the photo on the right was taken. The small ancilliary building on the left has also been demolished. Photo left Aubone Braddon.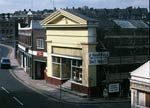 Reid and Lee, New North Road
In 1907 Reid and Evans, a specialist taxicab company opened in the Rockfield Works as the Blue Taxi Co. By 1927, they were known as Reid and Lee and had become automobile engineers and Vauxhall dealers. They also occupied 35, New North Road, in 1928 and acquired 41a New North Road (see Bathwick Tyres). Reid and Lee moved to Marsh Barton in the early 1980's and ceased to trade in 1990.

After Reid and Lee, the buildings had a succession of tenants including Eveleigh's Accessories, Maxi Car Hire, Exeter Vehicle Services and the Exeter Natural Health Centre. They were demolished in 1991 and Longbrook House was built for the Inland Revenue.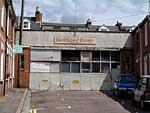 Rosewood Garage, Rosewood Terrace, Well Street
This garage workshop existed at the end of Rosewood Terrace, a cul-de-sac off Well Street, surrounded by terrace houses. In 1956 it was trading as Westcott Bros. Ltd, motor body builders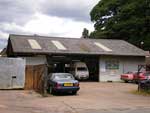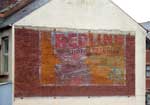 Snow and Stephens, King Edward Street
This site in Cowley Bridge Road was the first green field site in the city to be used for oil and petroleum storage around about 1900. The painted advert for Redline Oil dates from the late 1930's when Redline-Glico occupied the site - they were absorbed by ESSO in the 1950s.
1923 Anglo American Oil Co and British Petroleum
1939 Redline-Glico Ltd oil merchants
1956 Snow and Stephens motor engineers.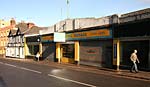 Bathwick Tyres, New North Road
The old sheds and stables used for Exeter's horse tram that opened in 1885 was situated on this site until its closure in 1905. It was occupied by Reid and Lee until the early 1980s when they moved to Marsh Barton and it became the Freefit Auto Centre. Bathwick Tyres traded from the building before it was demolished in 2007.
│ Top of Page │