Tip – use Search or Site Map
Loading
Join the Exeter Memories
Group Page
Contact EMail
Free Download plus Buy Books and Downloads
New - Exeter Pubs by David Cornforth. Also explore the British Newspaper Archive for free. Help fund Exeter Memories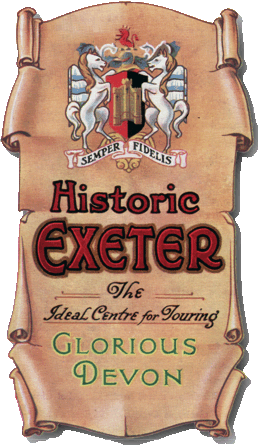 This graphic appeared on the rear of the official Exeter City Council guidebooks for about 15 years, from the 1920s to 1942.
This site currently contains 1,000 pages and more than 8,200 images.
Historic photos
A rather fine photo of St David's Station in 1914.
Exeter Wheelers Cycling Club in Bedford Circus, 1909. It is poignant to think that some of these men would have died in the treches of World War One a few years later.
One hundred years ago – December 1917
See more 1913, 1914, 1915, 1916 and 1917
THEFT OF COKE
Belgian Women Fined at Exeter
Two Belgian women, Josephine Vaudergeugd and Louise Marie Claeys, living at 25, Bartholomew-street West, were summoned at Exeter Police Court yesterday, before Messrs. H. Hall (chairman), H. B. Varwell, J. Stocker. and A. McCrea, for stealing a quantity of coke, value 1s 6d. the property of Edgar Bowden.—Through an interpreter the women admitted taking the coke, but pleaded than they thought they were doing no harm.
Detective-Sergt Walters, in consequence of complaints, was keeping observation near the Mint on the morning November 29th. when a carter the employ Mr. Bowden stopped with a load of coke, which he was about to deliver at the Mint School. When he pulled out the tailboard a quantity of coke fell out of the cart, and in the absence of the carter, who was delivering the coke in maunds (a British Indian word for a unit of mass), this was gathered up by defendants. Afterwards defendants spoke to some children, and these collected the coke which fell about the road every time the carter filled a mound and took it to defendants, who put it in their aprons. Witness followed defendants to their house, and recovered the coke, which weighed 39lbs. —Defendants were fined 2s. 6d., and warned as to future conduct.
Western Times - Saturday 08 December 1917
Houses auctioned
At the Mount Pleasant Inn, Exeter, yesterday, Messrs. Whitton and Laing, sold by auction three dwelling-houses. No. 23, St Anne's-road, was old to Mr. Crews, of Exeter for £235, No. 22, in the same road, went to the same buyer for £227 10s. Round Meadow Cottage, Whipton, and half-an-acre of garden, went Mr. Shepherd, builder, of Exeter, for £320)
Exeter and Plymouth Gazette - Thursday 13 December 1917
Tank collection
Mr. C. J. Ross, who reached, nearly the £2,500 mark collecting on Saturday in connection with the Exeter Tank War Economy Week, received several more applications yesterday, and is resuming his visiting campaign to-day.
Western Times - Tuesday 18 December 1917
Food Collection
The Devon Village Vegetables Depot at 91, Queen-street, in connection with the military hospitals in Exeter, reports on the second year's work as follows: Sacks and hampers of vegetables and fruit, 1,772; eggs, 6,008; butter, 111lbs. ; rabbits, 60; jam made at the Depot, 3.347lbs.; pickles and chutney, 313lbs.; collected in money-box for current expenses, £21 11s 5d.
Western Times - Tuesday 18 December 1917