Loading

Forum and contact EMail
Buy Books and Downloads
New - Exeter Pubs by David Cornforth. Also explore the British Newspaper Archive for free. Help fund Exeter Memories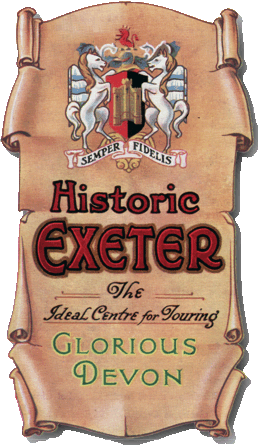 This graphic appeared on the rear of the official Exeter City Council guidebooks for about 15 years, from the 1920s to 1942.
This site currently contains 1,000 pages and more than 8,200 images.
Featured Photos
The Esso Jersey docked in the Haven. Photo Alan H Mazonowicz.
The old entrance to the Underground Passages next to Eastgate House. Mark Rowe, in the High Street is in the distance. Photo Alan H Mazonowicz.
One hundred years ago – July 1916
also see 1913, 1914, 1915 & 1916
Cycling Club
The Exeter Cycling Club has decided to arrange a sports day, etc., and entertain a number of wounded soldiers from the V.A.O. Hospitals, as last year.
Exeter and Plymouth Gazette - Thursday 06 July 1916
Cigarettes.
YOUTHFUL SMOKERS.
EXETER BENCH'S WARNING.
At Exeter Police Court yesterday, Edward North, 56, West-street, pleaded guilty to selling cigarettes to a lad under the age of 16 years June 30th.
The Chief Constable said, judging by the number of children smoking cigarettes in the city, shopkeepers did not observe the regulations.
Samuel Parsons, aged 13, said he was not asked how old he was when the cigarettes were supplied. He made similar purchases a few days before.
Defendant stated that he understood the cigarettes were for an elder brother. He was in the habit of asking boys their ages before he supplied them.
The Mayor said it was a bad habit for children to smoke. It was also injurious, and shopkeepers would be severely dealt with. He hoped the prosecution would act as a warning to others, to obey the law. A fine of £1 was imposed.
Exeter and Plymouth Gazette - Friday 07 July 1916
Wounded at Exeter Entertained
A few residents of the St. Sidwell's district utilised Wednesday afternoon in very pleasant and kindly fashion by organising an outing for wounded soldiers, twenty-four men from No. 5 Hospital being entertained by Mr. and Mrs. Maggs, Mr. and Mrs. Pantor, Mr. and Mrs. Wills, Mr. and Mrs. Graf, and Mr. and Mrs. Wonnacott to tea at Turf. The Council's boat, which was gaily decorated with flags, was chartered for the trip down the Canal, and at Turf a sumptuous tea of strawberries and cream was admirably served by Mr. and Mrs. Davey. After tea the wounded heroes took part—despite their disabilities—with cheery verve and ardour, in an amusing programme of sports.
Western Times - Friday 14 July 1916
Sergt. Basil G.Taunton, of Exeter, Killed
The sad news was received yesterday of the death in a hospital, in France, of Sergeant Basil G. Taunton, attached to the Surveyor's Department, G.P.0., of 14. Victoria Terrace, Exeter. Sergeant Taunton, who was educated at Tunbridge Wells, and formerly resided there, held a commission originally in the Kent Volunteers (Cyclists) in the Territorial days. At the Outbreak of war he joined, at Exeter, the 20th Royal Fusiliers, Public Schools Battalion, a private, and was very early on active service. He has been in and out of the trenches in France for many months, and it was only last week that an announcement appeared in the local papers that his friend, Sergeant Mudge, son of Mr. Mudge, of Heavitree, who has been with him in the same battalion since the commencement, had been wounded. Sergeant Taunton, during his short residence in Exeter, took an active part in the Boy Scout movement, and was, until he enlisted, a Scoutmaster, attached to the Exwick Patrol of Boy Scouts. He was only married in the spring of last year, and leaves a young widow to mourn his loss.
Western Times - Thursday 27 July 1916