Tip – use Search or Site Map
Join the Exeter Memories
Group Page
Contact EMail
Free Download plus Buy Books and Downloads
New - Exeter Pubs by David Cornforth. Also explore the British Newspaper Archive for free. Help fund Exeter Memories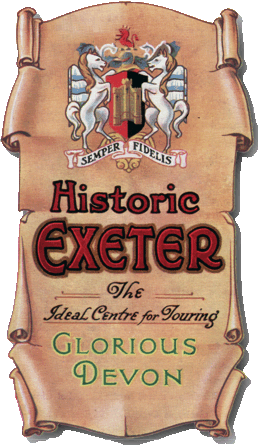 This graphic appeared on the rear of the official Exeter City Council guidebooks for about 15 years, from the 1920s to 1942.
This site currently contains 1,000 pages and more than 8,200 images.
Historic photos
A 19th Century print of Bury Meadow. The 'pepperpot' St David's Church on the left, and Heles School on the right.
A US Navy film team documenting life in Exeter, circa 1943. Broadgate on the right.
One hundred years ago – May 1918
See more 1913, 1914, 1915, 1916, 1917, 1918
SCALDED TO DEATH.
Today Mr. Linford Brown will hold an inquiry into the circumstances surrounding the death of Leslie Bannel, of 51, Cowick-street, Exeter. The little one, who is only, seven years of age, upset a kettle of hot water over himself on Thursday evening, and, despite careful medical attention, died on Friday evening.
Exeter and Plymouth Gazette - Monday 06 May 1918
Conspicuous Gallantry
Sergt. F. J. West, of the Dorsetshire Regt., has recently distinguished himself, and has received a Certificate of Record from the Major-General commanding the 17th Division, "In recognition of conspicuous gallantry and devotion to duty exercising excellent fire control on the 22nd and 25th of March, 1918, thereby keeping the enemy at bay many occasions." All will congratulate Sergt. West this recognition by the Division Commander.
Western Times - Friday 10 May 1918
BEATING THE BOUNDS.
Interesting Revival of Old Custom at Alphington
Interesting old-time customs are being revived at Alphington. Last week there was the quaint ceremony of blessing the crops, and on Monday the custom of beating the bounds, which has fallen into desuetude since 1850, was again carried out. About thirty parishioners, including two ladies, joined in the tramp, and although the distance was not less than twenty miles and over some of the most hilly country in the district, all the party went through to the end. The time occupied in the perambulation was about twelve hours.
Western Times - Friday 24 May 1918
Dogs Cause Accidents to Cyclists at Exeter
A boy named Charles Gorley, aged 9, living at Venice Villa. Queen's-road, St. Thomas, Exeter, was cycling down Bridge-street Saturday afternoon, and in attempting to avoid a dog. The animal ran into his machine, knocking the boy off. At the same time a motor van, driven Mr. Fred Norcombe, Bath-road, came along, and before could pull up, the van struck the boy. Norcombe stopped his van, and picking up the boy, conveyed him to the Royal Devon and Exeter Hospital. Dr. Domville, the House Surgeon, found the lad to be suffering from a wound, and contusions to the head and leg. The injuries having been treated, the lad was made an out-patient. His bicycle was badly damaged.