1,000 pages, 8,200 photos

Historic film, video and sound
Page of the Week
The City Workhouse (Heavitree)
New Pages
Earliest
Film–building the twin Exe Bridges
Bedford Chapel
College Kitchen/Bear Inn/Exonia Vaults
Colourful Innkeepers of Exeter
Marks & Spencer in Exeter
Bradninch Hall aka The Vineyard
Maps of the City of Exeter
Latest 21st January 2019
Updated Pages
Digby Asylum new photos
DevonAir new photos
McGaheys Tobacconists new photos
Bishop Blaize new photos & text
Mermaid Yard new photos & text
St Pancras Church new photos & text
Maritime Museum new photos & text
William Pett, Fire Chief new photos
Most recent 24th March 2019
Quick Links
Harry Weslake, automobile engineer.
John Rowe, American Revolutionary
Tip – use Search or Site Map
Join the Exeter Memories
Group Page
Contact EMail
Buy Exeter Books Here
New - Exeter Pubs by David Cornforth. Also explore the British Newspaper Archive for free. Help fund Exeter Memories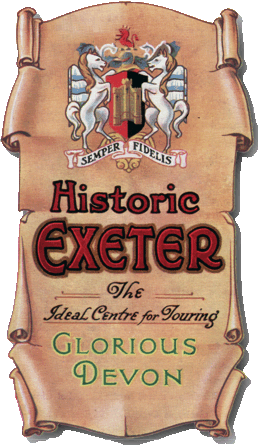 This graphic appeared on the rear of the official Exeter City Council guidebooks for about 15 years, from the 1920s to 1942.
Historic photos
Church Road Alphington.
Magdalen Street before it was redeveloped.
One hundred years ago – March 1919
See more 1913, 1914, 1915, 1916, 1917, 1918, 1919
COMMOTION IN WEIR FIELDS.
Caused by an Escaped Lunatic from Exeter Asylum
People walking in Topsham-road and Weirfields yesterday morning were much alarmed by seeing a man about fifty years of age, shouting and singing, and waving a short hedge stick in an excited manner. He was without a coat and hat.
He left Topsham-road near the Half-way House Inn, and entering a lane, reached Weir-fields, where passed one or two people, who were much frightened, by his antics...
Western Times - Saturday 05 April 1919
DIED AT EXETER.
Mr. J. W. Billiatt, Last Survivor of the Stuart Expedition
Mr. J. W. Billiatt, the last survivor of the Stuart Expedition which crossed Australia in 1861-62 and opened up the continent for telegraph and railway, died at Exeter on Sunday, aged 76.
Western Times - Tuesday 08 April 1919
HEAVITREE SCENE
Big Crowd Refuses to Assist a Police Constable
There was an unusual and regrettable scene at Heavitree, Exeter, last night, the sequel to which will be heard in the City Police Court.
It appears that about half-past nine P.C. Bishop bad occasion to take a man into custody. Two men were about to enter a public-house, and one of them was advised by the constable not to do so. His companion joined in an argument with the policeman, and eventually the first man was taken into custody.
A large crowd soon gathered, and assumed an attitude hostile to the constable. Not only did they refuse to give any assistance, but also stated they set on P.C. Bishop and did all they could to get the man away. A number of women joined the fracas, and the policeman was thrown to the ground and, it is said, repeatedly kicked. His whistle was snatched away from him, and somebody else seized his helmet. When P.C. Bishop had succeeded in getting the man outside the police station there was a renewal of hostility...
Western Times - Thursday 17 April 1919

The Exeter
'Comment'

from Exeter Memories

This site is run by a resident of who loves the city
New - Feltrim by Dick Passmore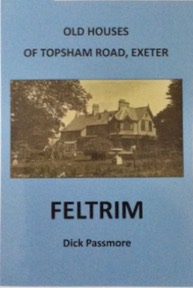 The former 'Feltrim' or 'Feltrim House' once the Exeter home of Dr. Barnardo's, stood in Topsham Road, on the present site of Norwood Avenue, until it was destroyed in the Exeter Blitz in 1942.
This is a brief history of the property, including numerous rare black & white and colour photos of the interior and exterior and the extensive grounds".
The book is 40 pages, approx 8" by 6". The cost is £4.50 plus £1.75 postage for one or two books. For every copy sold, £1 will be donated to the cancer charity FORCE.
To purchase the book, send a cheque for £6.25 to Dick Passmore at:
Little Silver Publications, Little Silver Lane, Matford, Exeter EX2 8XZ
Exeter Dissenters Graveyard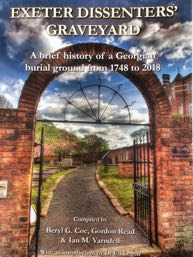 This Booklet, published in June 2018, by the Exeter Dissenters Graveyard Trust contains a brief history of dissent in Exeter, information about some of the people buried in the graveyard and their families. Also covered is the graveyard's physical aspects and the restorative work undertaken by the trustees and many volunteers.  There are numerous coloured photos and a loose plan of the graveyard showing the first named person on each memorial where this has been possible. Available from www.edgt.org.uk
Exeter Pubs by David Cornforth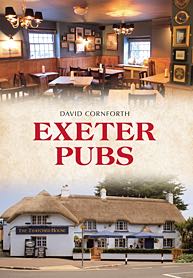 Over the past few centuries, nearly 500 pubs have opened their doors in Exeter. While many have been lost due to time, money or misfortune, the stories and memories created in these 'locals' live on. Exeter Pubs offers a captivating glimpse into the history of some of Exeter's most famous pubs. Drawing upon an eclectic collection of photographs, David Cornforth presents the reader with an insight into the history and life of the pubs in this area. From pub dogs to landlords, famous visitors to suspicious fires, this book tells the stories of Exeter's numerous watering holes. Just like countless travellers over the centuries, the modern reader is encouraged to stop for a pint in each and continue the stories of these historic establishments. Well-researched and beautifully illustrated, Exeter Pubs provides something for everyone, whether they have lived in Exeter all their lives, or whether they are just visiting this vibrant town. Available from Amazon Exeter Pubs (Amberley Pub)
Exeter Memories on Facebook and Twitter
Exeter Memories has a Page and a Group on Facebook. The group is for people to swap memories of living in the city – at the moment, the 1960s and 70s are very popular. You can also follow #ExeterMemories on Twitter, where the latest pages are promoted and events that happened on the day are linked.
Historic Buildings of Exeter - iBook for your iPad
Published on the 1 December 2012 is the Exeter Memories iBook Historic Buildings of Exeter. Liberally illustrated with full screen photographs, illustartions and maps, the interactive book covers fourteen of Exeter's most loved buildings. The photos look stunning on the Retina display of the iPad 3, while the new iPad Mini is a convenient way to view the book. If you have an iPAd and love Exeter, this is the eBook for you. Moderately priced at £2.49, the book is available from iTunes here - Historic Buildings of Exeter - David Cornforth
Downloads to Support Exeter Memories
Exeter Memories has never had any Google ads, nor any other form of income generation. To help finance the hosting of the site I have added three downloads, that can be purchased for £2 each. Click on the PURCHASE button on any page to see the downloads. There is the choice of seven large sized, hi-res map files of the city, or two eBooks — Charles Worthy's The History of the Suburbs of Exeter and the charming James Cossins' Reminiscences of Exeter Fifty Years Since. Both books can be purchased in ePub (Sony, Nook etc) format or Kindle format Screen readers can also be downloaded for your computer - see free Adobe Reader. Please support Exeter Memories by purchasing a download.
That's all for now,
David Cornforth - My Contact E-Mail