1,000 pages, 8,200 photos

Historic film, video and sound
Page of the Week
The Cattle Market, Bonhay Road
New Pages
Earliest
College Kitchen/Bear Inn/Exonia Vaults
Colourful Innkeepers of Exeter
Marks & Spencer in Exeter
Bradninch Hall aka The Vineyard
Maps of the City of Exeter
Surviving a bomb in a Morrison Shelter
Latest 26th May 2019
Updated Pages
HMS Exeter crew three new names
Richard Hooker new text
Acland Arms new photo
Exeter Theatre new text/photo
Exeter's Gasworks new text
Polsloe Road new photos and text
HMS Exeter crew members
Dick Pym goalkeeper
Most recent 6th May 2020
Quick Links
Harry Weslake, automobile engineer.
Archbishop Temple, born in Exeter.
Tip – use Search or Site Map
Join the Exeter Memories
Group Page
Contact EMail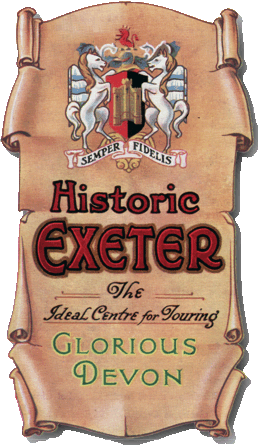 This graphic appeared on the rear of the official Exeter City Council guidebooks for about 15 years, from the 1920s to 1942.
Historic photos

Bobbys being constructed in Sidwell Street, during 1962/3.
The Mayor opening the new swimming baths in 1940. They are now called 'the Pyramids'.
One hundred years ago – June 1920
See more 1913, 1914, 1915, 1916, 1917, 1918, 1919, 1920
AN EXETER MYSTERY
Jury Return a Verdict of "Found Dead"
BABY IN BOX
The Exeter Coroner (Mr. V. Linford Brown), with a jury, resumed, at the Guildhall, Monday, the inquest on the male child whose decomposed body was found in a soap box at St. David's Station on April 22nd. The box had been despatched by some unknown person from Stapleton-road Station, Bristol, to a fictitious address, North-road, Exeter...
Western Times - Friday 04 June 1920
Motor-Cycle Number Hidden by Lady's Skirt at Exeter
An unusual case came before the Exeter Friday, when Geo. Lee, Broadclyst, was summoned for driving a motor cycle, the rear plate of which was obscured.—Acting-inspector Snell said defendant was driving the motor cycle, and had a lady friend on the carrier. Her skirt was entirely obscuring the number plate. This -sort of thing was getting more and more prevalent.—Fined 7s 6d.
Western Times - Tuesday 08 June 1920
Water Polo at Exeter
A large crowd witnessed a water polo match in the river off Gabriel's Timber Yard, Exeter, last evening. Exeter Reserves (the home team) proved altogether too strong for Budleigh Salterton, and a one-sided, but not uninteresting game, ended in a win for the homesters by eight goals—Davey (2). (3), Glanville. Cummins and Ponter—to three (Luscombe). A match will be played in the river against! Exmouth next week. Western Times - Saturday 26 June 1920
CHAR-A-BANC DISASTER NEAR EXETER
Motor Overturned on Six Mile Hill
ONE EXONIAN KILLED OVER TWENTY INJURED
Tragic Ending to an Excursion to Plymouth
DRIVER'S STORY.
Considerable amount was occasioned in Exeter on Saturday when the room again currency that the large motor char-a-banc, containing a party of Exeter excursionists, had capsized when the rumour gained currency that a large motor char-a-banc, containing patty of Exeter excursionists, had capsized in the vicinity of Dunsford, and that several - persons had been killed and many injured.
The report as to the killed was exaggerated, but we regret to record that one man...

The Exeter
'Comment'

from Exeter Memories

This site is run by a resident of who loves the city
Exeter Dissenters Graveyard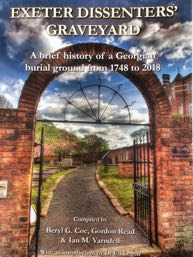 This Booklet, published in June 2018, by the Exeter Dissenters Graveyard Trust contains a brief history of dissent in Exeter, information about some of the people buried in the graveyard and their families. Also covered is the graveyard's physical aspects and the restorative work undertaken by the trustees and many volunteers. There are numerous coloured photos and a loose plan of the graveyard showing the first named person on each memorial where this has been possible. Available from www.edgt.org.uk
Exeter Pubs by David Cornforth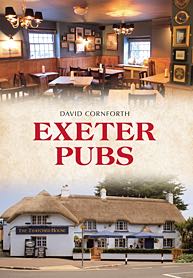 Over the past few centuries, nearly 500 pubs have opened their doors in Exeter. While many have been lost due to time, money or misfortune, the stories and memories created in these 'locals' live on. Exeter Pubs offers a captivating glimpse into the history of some of Exeter's most famous pubs. Drawing upon an eclectic collection of photographs, David Cornforth presents the reader with an insight into the history and life of the pubs in this area. From pub dogs to landlords, famous visitors to suspicious fires, this book tells the stories of Exeter's numerous watering holes. Just like countless travellers over the centuries, the modern reader is encouraged to stop for a pint in each and continue the stories of these historic establishments. Well-researched and beautifully illustrated, Exeter Pubs provides something for everyone, whether they have lived in Exeter all their lives, or whether they are just visiting this vibrant town. Available from Amazon Exeter Pubs (Amberley Pub)
Exeter Memories on Facebook and Twitter
Exeter Memories has a Page and a Group on Facebook. The group is for people to swap memories of living in the city – at the moment, the 1960s and 70s are very popular. You can also follow #ExeterMemories on Twitter, where the latest pages are promoted and events that happened on the day are linked.
Historic Buildings of Exeter - iBook for your iPad
Published on the 1 December 2012 is the Exeter Memories iBook Historic Buildings of Exeter. Liberally illustrated with full screen photographs, illustartions and maps, the interactive book covers fourteen of Exeter's most loved buildings. The photos look stunning on the Retina display of the iPad 3, while the new iPad Mini is a convenient way to view the book. If you have an iPAd and love Exeter, this is the eBook for you. Moderately priced at £2.49, the book is available from iTunes here - Historic Buildings of Exeter - David Cornforth
That's all for now,
David Cornforth - My Contact E-Mail