Tip – use Search or Site Map
Join the Exeter Memories
Group Page
Contact EMail
Free Download plus Buy Books and Downloads
New - Exeter Pubs by David Cornforth. Also explore the British Newspaper Archive for free. Help fund Exeter Memories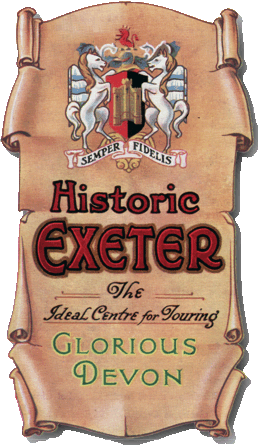 This graphic appeared on the rear of the official Exeter City Council guidebooks for about 15 years, from the 1920s to 1942.
This site currently contains 1,000 pages and more than 8,200 images.
Historic photos
Queen Street Station (Central Station) was destroyed by fire in 1927.
The Bear Inn, formerly the College Kitchen being demolished in South Street in 1871.
One hundred years ago – March 1918
See more 1913, 1914, 1915, 1916, 1917, 1918
Exeter Postal Official's Work in Germany
On Friday Mrs. Huxtable, of Haldon View, terrace, Heavitree, Exeter, received a post card stating that on the 4th inst. her husband, Sergt. Huxtable, of the Rifle Brigade, who has been interned in Germany, had arrived in Holland. Sergt. Huxtable. who is well-known in Ilfracombe, and who prior to the war was at the Exeter Post Office, has during the time of his internment in the Soltau Camp, Hanover, Germany, been engaged in the work of sorting and despatching parcels sent from home to six thousand British prisoners wherever they have been at work. Upon some thirty British prisoners in the camp devolved the task. The parcels numbered about 60,000 a month, and there was a general among the captives to acknowledge the splendid work of the staff which was in charge of Serge. Huxtable.
Western Times - Tuesday 12 March 1918
EXETER MURDER CASE
Mother Accused of Drowning Her Baby
THE WOMAN'S STATE OF MIND
The Exeter mother, Alice Bennett, aged 29, who is charged with the wilful murder by drowning of her infant child, at Alphington, on February 21st. was brought at the Castle of Exeter, before Mr. T. Snow, in the chair, Sir James Owen, and Mr. H. G. Morgan, yesterday, when the case was fully gone into. Mr S. Ernest Crosse represented the prisoner, who was calmer in her demeanour than on previous appearances before the magistrates. Her father and sister were present. Supt. Buchanan said the facts were painfully simple, and the magistrates would have no difficulty in arriving at the conclusion that the charge was brought home to prisoner...
Western Times - Wednesday 13 March 1918
THE "DARK MAN
Remarkable Story of Cheap Seances
AT HEAVITREE
A remarkable story was told at the Police Court yesterday, before the Mayor (Sir James Owen) the chair, Mr. H. Campion, and Mr W, Browne, of how the Wife of a labourer faced with money difficulties, began a fortune-telling business, and subsequently formed quite a large clientele, consisting largely of servant girls. Her seances were uncommonly cheap, for she accepted low a fee as shilling for an hour's interview, and feigned communing with lost relatives.
Ada Tarr, of Goldsmith Street, Heavitree, was summoned for pretending to tell fortunes during the past six months. She pleaded not guilty "to imposing upon people."...
Western Times - Friday 15 March 1918