1,000 pages, 8,200 photos

Historic film, video and sound
Page of the Week
New Pages
Earliest
History Day 2004 video
Filming the Onedin Line 1976 8mm film
Film–building the twin Exe Bridges
Bedford Chapel
College Kitchen/Bear Inn/Exonia Vaults
Colourful Innkeepers of Exeter
Latest 28th February 2018
Updated Pages
Prospect Inn
Admiral Vernon
Debenhams
City Gate Hotel
Hoopern Street
Exeter's brickworks
Mols Coffee House
Most recent 16th September 2018
Quick Links
Harry Weslake, automobile engineer.
John Rowe, American Revolutionary
Tip – use Search or Site Map
Join the Exeter Memories
Group Page
Contact EMail
Buy Exeter Books Here
New - Exeter Pubs by David Cornforth. Also explore the British Newspaper Archive for free. Help fund Exeter Memories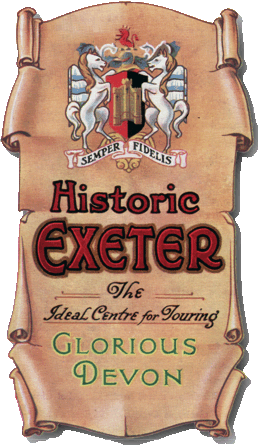 This graphic appeared on the rear of the official Exeter City Council guidebooks for about 15 years, from the 1920s to 1942.
Historic photos
Waterbeer Street looking towards North Street in 1961.
Waterbeer Street looking towards Goldsmoth Street and the yet to be built Marks and Spencers in 1979.
One hundred years ago – September 1918
See more 1913, 1914, 1915, 1916, 1917, 1918
Raymond Entertains 700 Wounded
On Saturday 700 from the local hospitals and also some of the lads from the Whipton Reformatory were entertained at the Hippodrome by Raymond, the magician. And a fine entertainment it was, too. He kept them mystified for an hour and a half with a huge variety of his tricks–all his best and cleverest. No trouble seemed too much for Raymond in his exampling in his gifts for the lads in hospital blue.
Western Times - Monday 02 September 1918
Bishops third son killed
I should like, on behalf of readers, to express their very sincere sympathy with the Lord Bishop of Exeter and Lady Florence Cecil in the further great loss which has befallen them by the death, in action, of a third son in the war, information being yesterday received that Captain J. A. Cecil had made the supreme sacrifice.
Exeter and Plymouth Gazette - Wednesday 04 September 1918
Cider shortage
Owing to the scarcity of apples, very little cider, if any, will be made this autumn. And that little will be made will almost prohibitive in price to those whose only beverage is the "wine the country.'" Somerset cider is realising remarkable prices at auction–100 hogsheads have fetched from 2s 11d to 3s 1d per gallon, the greater portion being purchased by London and Exeter buyers.
Exeter and Plymouth Gazette - Friday 06 September 1918
To the Editor of the Daily Gazette
Sir.—Is it not time that, this "Keep to the Left" fiasco was brought to a close? The ratepayers' money is being expended right and left to bolster a fad of an official, and now, at the eleventh hour, three special constables have written in support. All praise them for their names. There were additional constables on duty in the High-street, on Sunday night purposely to worry people to keep to the left. Surely, Sir, in a city like Exeter people do not want in war-time to have these restrictions on their liberties.
Yours truly,
W. DOWN
11, Church Lane, Exeter
Exeter and Plymouth Gazette - Tuesday 24 September 1918

The Exeter
'Comment'

from Exeter Memories

This site is run by a resident of who loves the city
Exeter Dissenters Graveyard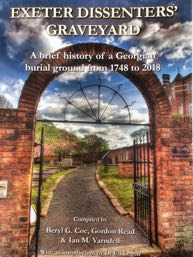 This Booklet, published in June 2018, by the Exeter Dissenters Graveyard Trust contains a brief history of dissent in Exeter, information about some of the people buried in the graveyard and their families. Also covered is the graveyard's physical aspects and the restorative work undertaken by the trustees and many volunteers.  There are numerous coloured photos and a loose plan of the graveyard showing the first named person on each memorial where this has been possible. Available from www.edgt.org.uk
Exeter Pubs by David Cornforth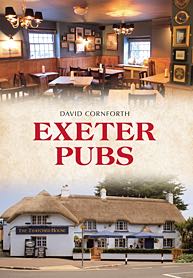 Over the past few centuries, nearly 500 pubs have opened their doors in Exeter. While many have been lost due to time, money or misfortune, the stories and memories created in these 'locals' live on. Exeter Pubs offers a captivating glimpse into the history of some of Exeter's most famous pubs. Drawing upon an eclectic collection of photographs, David Cornforth presents the reader with an insight into the history and life of the pubs in this area. From pub dogs to landlords, famous visitors to suspicious fires, this book tells the stories of Exeter's numerous watering holes. Just like countless travellers over the centuries, the modern reader is encouraged to stop for a pint in each and continue the stories of these historic establishments. Well-researched and beautifully illustrated, Exeter Pubs provides something for everyone, whether they have lived in Exeter all their lives, or whether they are just visiting this vibrant town. Available from Amazon Exeter Pubs (Amberley Pub)
Exeter Memories on Facebook and Twitter
Exeter Memories has a Page and a Group on Facebook. The group is for people to swap memories of living in the city – at the moment, the 1960s and 70s are very popular. You can also follow #ExeterMemories on Twitter, where the latest pages are promoted and events that happened on the day are linked.
Historic Buildings of Exeter - iBook for your iPad
Published on the 1 December 2012 is the Exeter Memories iBook Historic Buildings of Exeter. Liberally illustrated with full screen photographs, illustartions and maps, the interactive book covers fourteen of Exeter's most loved buildings. The photos look stunning on the Retina display of the iPad 3, while the new iPad Mini is a convenient way to view the book. If you have an iPAd and love Exeter, this is the eBook for you. Moderately priced at £2.49, the book is available from iTunes here - Historic Buildings of Exeter - David Cornforth
Downloads to Support Exeter Memories
Exeter Memories has never had any Google ads, nor any other form of income generation. To help finance the hosting of the site I have added three downloads, that can be purchased for £2 each. Click on the PURCHASE button on any page to see the downloads. There is the choice of seven large sized, hi-res map files of the city, or two eBooks — Charles Worthy's The History of the Suburbs of Exeter and the charming James Cossins' Reminiscences of Exeter Fifty Years Since. Both books can be purchased in ePub (Sony, Nook etc) format or Kindle format Screen readers can also be downloaded for your computer - see free Adobe Reader. Please support Exeter Memories by purchasing a download.
That's all for now,
David Cornforth - My Contact E-Mail