1,000 pages, 8,200 photos

Historic film, video and sound
Page of the Week
The City Workhouse (Heavitree)
New Pages
Earliest
Bedford Chapel
College Kitchen/Bear Inn/Exonia Vaults
Colourful Innkeepers of Exeter
Marks & Spencer in Exeter
Bradninch Hall aka The Vineyard
Maps of the City of Exeter
Surviving a bomb in a Morrison Shelter
Latest 26th May 2019
Updated Pages
William Pett, Fire Chief new photos
Bampfylde Street photos and text
Baring Crescent photos
Welcome Inn/Cafe new photo
HMS Exeter crew member
Orthpaedic Hospital new photos
HMS Exeter crew three new names
Richard Hooker new text
Most recent 7th November 2019
Quick Links
Harry Weslake, automobile engineer.
John Rowe, American Revolutionary
Tip – use Search or Site Map
Join the Exeter Memories
Group Page
Contact EMail
Buy Exeter Books Here
New - Exeter Pubs by David Cornforth. Also explore the British Newspaper Archive for free. Help fund Exeter Memories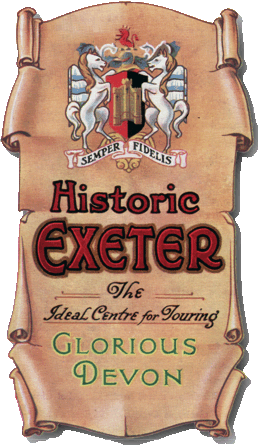 This graphic appeared on the rear of the official Exeter City Council guidebooks for about 15 years, from the 1920s to 1942.
Historic photos

The Wharfingers Office on the quay, now a hairdressers..
Howard Lang as Captain Baines in the Onedin Line, 1976.
One hundred years ago – November 1919
See more 1913, 1914, 1915, 1916, 1917, 1918, 1919
Champion Rockets Heavitree
Alfred Finning and Walter Addicott, both of South Lawn-terrace, Heavitree, lads, were summoned at Exeter Police Court yesterday for discharging fireworks in Albion-place, Homefield, Heavitree, on 6th November.– Acting Inspector Snell said the discharge of the rockets caused a report which could be heard miles' distant. Defendants, who pleaded guilty, were each fined 2s 6d.
Western Times - Friday 14 November 1919
EXETER'S PLUCKY BOY
Receives Medal for Rescuing a Cat from a Roof
Before the business of Exeter City Police Court commenced yesterday, Mr. W. Parkhouse explained that it was the desire of the Royal Society for the Prevention of Cruelty to Animals, that the Mayor should present to Master Thomas Bennetto, of Old Tiverton-road, Exeter, the medal awarded by the Society recognition of his bravery in saving the life of cat. It would be remembered that in October the cat climbed to the chimney of a tall house...
Western Times - Thursday 20 November 1919
EXETER ROBBERIES
Offertory Boxes Broken Open at Several Churches
Further particulars to hand concerning robberies at Exeter Churches, as reported in yesterday morning's issue, show that during the past few days the boxes at quite half a dozen city churches, including Heavitree, St. David's. St. Stephen's. and St Mary Majors, have been broken open, evidently by means of a chisel. These raids are carried out periodically, and are believed to be the work of one person.
Western Times - Tuesday 25 November 1919
Unknown Man Loses His Memory at Exeter
Shortly before nine o'clock last evening an unknown man was found lying on the pavement in Paris-street, Exeter. He was apparently suffering from loss of memory and shell shock, and was quite unable give any account of himself. He was eventually taken on a St. John Ambulance stretcher to the Royal Devon and Hospital, where he wad detained.
Western Times - Friday 28 November 1919

The Exeter
'Comment'

from Exeter Memories

This site is run by a resident of who loves the city
Exeter Dissenters Graveyard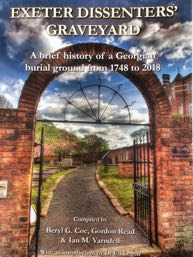 This Booklet, published in June 2018, by the Exeter Dissenters Graveyard Trust contains a brief history of dissent in Exeter, information about some of the people buried in the graveyard and their families. Also covered is the graveyard's physical aspects and the restorative work undertaken by the trustees and many volunteers. There are numerous coloured photos and a loose plan of the graveyard showing the first named person on each memorial where this has been possible. Available from www.edgt.org.uk
Exeter Pubs by David Cornforth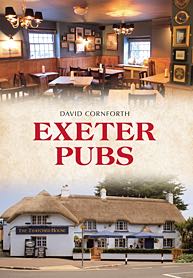 Over the past few centuries, nearly 500 pubs have opened their doors in Exeter. While many have been lost due to time, money or misfortune, the stories and memories created in these 'locals' live on. Exeter Pubs offers a captivating glimpse into the history of some of Exeter's most famous pubs. Drawing upon an eclectic collection of photographs, David Cornforth presents the reader with an insight into the history and life of the pubs in this area. From pub dogs to landlords, famous visitors to suspicious fires, this book tells the stories of Exeter's numerous watering holes. Just like countless travellers over the centuries, the modern reader is encouraged to stop for a pint in each and continue the stories of these historic establishments. Well-researched and beautifully illustrated, Exeter Pubs provides something for everyone, whether they have lived in Exeter all their lives, or whether they are just visiting this vibrant town. Available from Amazon Exeter Pubs (Amberley Pub)
Exeter Memories on Facebook and Twitter
Exeter Memories has a Page and a Group on Facebook. The group is for people to swap memories of living in the city – at the moment, the 1960s and 70s are very popular. You can also follow #ExeterMemories on Twitter, where the latest pages are promoted and events that happened on the day are linked.
Historic Buildings of Exeter - iBook for your iPad
Published on the 1 December 2012 is the Exeter Memories iBook Historic Buildings of Exeter. Liberally illustrated with full screen photographs, illustartions and maps, the interactive book covers fourteen of Exeter's most loved buildings. The photos look stunning on the Retina display of the iPad 3, while the new iPad Mini is a convenient way to view the book. If you have an iPAd and love Exeter, this is the eBook for you. Moderately priced at £2.49, the book is available from iTunes here - Historic Buildings of Exeter - David Cornforth
That's all for now,
David Cornforth - My Contact E-Mail