1,000 pages, 8,200 photos

Historic film, video and sound
Page of the Week
The Cattle Market, Bonhay Road
New Pages
Earliest
Colourful Innkeepers of Exeter
Marks & Spencer in Exeter
Bradninch Hall aka The Vineyard
Maps of the City of Exeter
Surviving a bomb in a Morrison Shelter
Phyllis Grimes RAF fitter
Latest 4th July 2020
Updated Pages
Richard Hooker new text
Acland Arms new photo
Exeter Theatre new text/photo
Exeter's Gasworks new text
Polsloe Road new photos and text
HMS Exeter crew members
Dick Pym goalkeeper
WW1 - Roll of Honour
Most recent 4th July 2020
Quick Links
Harry Weslake, automobile engineer.
Archbishop Temple, born in Exeter.
Tip – use Search or Site Map
Join the Exeter Memories
Group Page
Contact EMail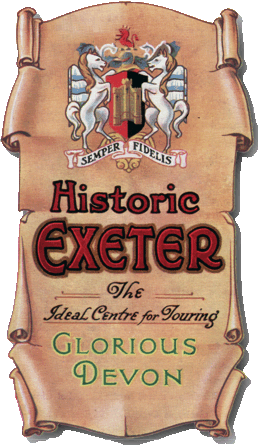 This graphic appeared on the rear of the official Exeter City Council guidebooks for about 15 years, from the 1920s to 1942.
Historic photos

Greenslade Garage early 1920s.
The Red Cow Inn near St David's Station.
One hundred years ago – September 1920
See more 1913, 1914, 1915, 1916, 1917, 1918, 1919, 1920
Policeman's Plucky Act at Heavitree
A very plucky act was performed by P.C. Tom Farrant in Fore-street, Heavitree, yesterday afternoon. A horse, the property of Messr. Chaplin and Co., bolted while its driver, Alfred Ley, was delivering a parcel. When near Church-street, the constable dashed across the road and seized the reins. After running come distance he was successful pulling up the animal before any damage was done Several people commended the constable on his pluck.
Western Times - Thursday 02 September 1920
Motorists Fined for Obstruction at Exeter
Reginald Wykes Mark, 82, Fotheringham-road, Enfield, and Rev. William Frank Lamplugh, Crockwill, Exminster, were each fined £1 for leaving motor-cars the streets in Exeter. The former left his car in High-street for thirty minutes, and the latter in Queen-street for an hour The magistrates expressed the opinion people did not exercise any reason in the matter. It was impossible to allow cars be kept standing in the streets and steps would have taken to prevent it.
Western Times - Tuesday 07 September 1920
Council meeting–Telegraph for St Sidwell's
Mr. Lucas asked the Council to support the St. Sidwell's Traders' Association in petitioning the Postmaster-General to provide telegraphic facilities in St. Sidwell's. The Mayor said the matter was one for discussion, and would come before the Council at the next meeting.
Exeter and Plymouth Gazette - Wednesday 15 September 1920
Sailor's Plight at Exeter
"I have no plain clothes, nor work, therefore I have no alternative to wearing my uniform," stated to have been said by stoker Eric Slade, of H.M.S. Tiger, who was charged at Exeter Police Court yesterday with being absentee from his ship since 21st. Chief Inspector Martin told the magistrates, Messrs. T. Campion (in the chair) and J. Gould that the defendant was found in the High-street that morning about 9 30, unwell. P.C. Carpenter rendered first-aid, and on coming round Slade, in reply to a question, said he was on leave until Monday, but had no leave ticket on him. He afterwards admitted to being an absentee. Defendant now declared that had been discharged from the Navy, his services being longer required. A telegram had been sent to the Tiger, and the Bench remanded him pending a reply from the ship as to the truthfulness of his story
Western Times - Friday 24 September 1920

The Exeter
'Comment'

from Exeter Memories

This site is run by a resident of who loves the city
Exeter Dissenters Graveyard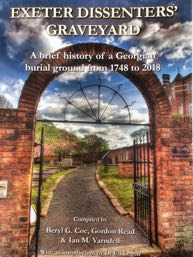 This Booklet, published in June 2018, by the Exeter Dissenters Graveyard Trust contains a brief history of dissent in Exeter, information about some of the people buried in the graveyard and their families. Also covered is the graveyard's physical aspects and the restorative work undertaken by the trustees and many volunteers. There are numerous coloured photos and a loose plan of the graveyard showing the first named person on each memorial where this has been possible. Available from www.edgt.org.uk
Exeter Pubs by David Cornforth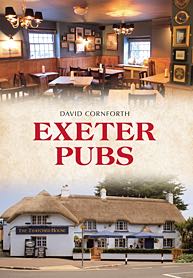 Over the past few centuries, nearly 500 pubs have opened their doors in Exeter. While many have been lost due to time, money or misfortune, the stories and memories created in these 'locals' live on. Exeter Pubs offers a captivating glimpse into the history of some of Exeter's most famous pubs. Drawing upon an eclectic collection of photographs, David Cornforth presents the reader with an insight into the history and life of the pubs in this area. From pub dogs to landlords, famous visitors to suspicious fires, this book tells the stories of Exeter's numerous watering holes. Just like countless travellers over the centuries, the modern reader is encouraged to stop for a pint in each and continue the stories of these historic establishments. Well-researched and beautifully illustrated, Exeter Pubs provides something for everyone, whether they have lived in Exeter all their lives, or whether they are just visiting this vibrant town. Available from Amazon Exeter Pubs (Amberley Pub)
Exeter Memories on Facebook and Twitter
Exeter Memories has a Page and a Group on Facebook. The group is for people to swap memories of living in the city – at the moment, the 1960s and 70s are very popular. You can also follow #ExeterMemories on Twitter, where the latest pages are promoted and events that happened on the day are linked.
Historic Buildings of Exeter - iBook for your iPad
Published on the 1 December 2012 is the Exeter Memories iBook Historic Buildings of Exeter. Liberally illustrated with full screen photographs, illustartions and maps, the interactive book covers fourteen of Exeter's most loved buildings. The photos look stunning on the Retina display of the iPad 3, while the new iPad Mini is a convenient way to view the book. If you have an iPAd and love Exeter, this is the eBook for you. Moderately priced at £2.49, the book is available from iTunes here - Historic Buildings of Exeter - David Cornforth
That's all for now,
David Cornforth - My Contact E-Mail