1,000 pages, 8,200 photos

Historic film, video and sound
Page of the Week
The City Workhouse (Heavitree)
New Pages
Earliest
Bedford Chapel
College Kitchen/Bear Inn/Exonia Vaults
Colourful Innkeepers of Exeter
Marks & Spencer in Exeter
Bradninch Hall aka The Vineyard
Maps of the City of Exeter
Surviving a bomb in a Morrison Shelter
Latest 26th May 2019
Updated Pages
St Pancras Church new photos & text
Maritime Museum new photos & text
William Pett, Fire Chief new photos
Bampfylde Street photos and text
Baring Crescent photos
Welcome Inn/Cafe new photo
HMS Exeter crew member
Orthpaedic Hospital new photos
Most recent 20th August 2019
Quick Links
Harry Weslake, automobile engineer.
John Rowe, American Revolutionary
Tip – use Search or Site Map
Join the Exeter Memories
Group Page
Contact EMail
Buy Exeter Books Here
New - Exeter Pubs by David Cornforth. Also explore the British Newspaper Archive for free. Help fund Exeter Memories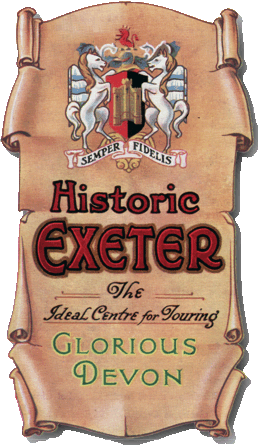 This graphic appeared on the rear of the official Exeter City Council guidebooks for about 15 years, from the 1920s to 1942.
Historic photos
Possibly the inauguration of the horse trams in 1882. Location is Sidwell Street.
Moving the Merchants House in 1961.
One hundred years ago – September 1919
See more 1913, 1914, 1915, 1916, 1917, 1918, 1919
An Overloaded Cab at Exeter
At Exeter Police Court yesterday, George Budd. 62. Paris-street. was summoned for conveying more than five people in a hackney carriage on August 27th. Defendant pleaded guilty. The Chief Constable said there were six persons in the cab in addition to the driver. P.C. Parish said it it was an open cab which was being driven through High-street. Defendant said he did not know he had six passengers until he reached the the White Lion Hotel. One of them got into the cab without his knowledge Budd added that he was returning from Haldon Races. There was a lot of people about, and he did not know where the sixth passenger got into the vehicle. It transpired that the defendant did not carry a copy of the bye-laws in his cab as all cabmen were required to do. The Chief Constable said the Hackney Carriage Inspector was continually cautioning cabmen on this matter. Copies of the bye-laws could be got. Defendant was fined 5s.
Western Times - Thursday 04 September 1919
Death of an Exeter Centenarian
The death occurred at 30, Richmond-road, Exeter, on Monday, of Miss E. Reed, who was 100 years old. Deceased was the sister the late Mr. T. Reed, currier, Fore-street, Exeter, who was a member of the City Board of Guardians. She was a native of Chawleigh.
Western Times - Wednesday 24 September 1919
EXETER COUNCIL
AND DISABLED MEN
The Exeter City Council having received a letter from the Ministry of Health asking local authorities when filling vacancies of their staffs to give preference to competent disabled ex-Service men, and to give an undertaking to employ not less than 5 per cent, of men, the Town Clerk has informed the Finance Committee that the Council are at present employing a greater proportion of disabled men than 5 per cent. The Committee recommended that the undertaking be given.
Exeter and Plymouth Gazette - Saturday 27 September 1919
PINHOE.
The railway strike enforces reduced sugar ration. We can meet the difficulty. Honey Sugar, 21bs. 1s 8d (no coupons), particularly suitable for all sweetening purposes, Cakes and Fruits, etc. "The Golden Teapot" Stores, Pinhoe-road, Exeter, close to Bridge Halt.—Advt.
Exeter and Plymouth Gazette - Monday 29 September 1919

The Exeter
'Comment'

from Exeter Memories

This site is run by a resident of who loves the city
Exeter Dissenters Graveyard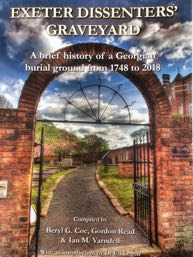 This Booklet, published in June 2018, by the Exeter Dissenters Graveyard Trust contains a brief history of dissent in Exeter, information about some of the people buried in the graveyard and their families. Also covered is the graveyard's physical aspects and the restorative work undertaken by the trustees and many volunteers.  There are numerous coloured photos and a loose plan of the graveyard showing the first named person on each memorial where this has been possible. Available from www.edgt.org.uk
Exeter Pubs by David Cornforth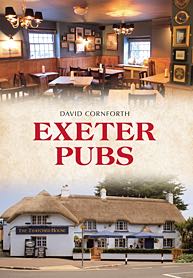 Over the past few centuries, nearly 500 pubs have opened their doors in Exeter. While many have been lost due to time, money or misfortune, the stories and memories created in these 'locals' live on. Exeter Pubs offers a captivating glimpse into the history of some of Exeter's most famous pubs. Drawing upon an eclectic collection of photographs, David Cornforth presents the reader with an insight into the history and life of the pubs in this area. From pub dogs to landlords, famous visitors to suspicious fires, this book tells the stories of Exeter's numerous watering holes. Just like countless travellers over the centuries, the modern reader is encouraged to stop for a pint in each and continue the stories of these historic establishments. Well-researched and beautifully illustrated, Exeter Pubs provides something for everyone, whether they have lived in Exeter all their lives, or whether they are just visiting this vibrant town. Available from Amazon Exeter Pubs (Amberley Pub)
Exeter Memories on Facebook and Twitter
Exeter Memories has a Page and a Group on Facebook. The group is for people to swap memories of living in the city – at the moment, the 1960s and 70s are very popular. You can also follow #ExeterMemories on Twitter, where the latest pages are promoted and events that happened on the day are linked.
Historic Buildings of Exeter - iBook for your iPad
Published on the 1 December 2012 is the Exeter Memories iBook Historic Buildings of Exeter. Liberally illustrated with full screen photographs, illustartions and maps, the interactive book covers fourteen of Exeter's most loved buildings. The photos look stunning on the Retina display of the iPad 3, while the new iPad Mini is a convenient way to view the book. If you have an iPAd and love Exeter, this is the eBook for you. Moderately priced at £2.49, the book is available from iTunes here - Historic Buildings of Exeter - David Cornforth
That's all for now,
David Cornforth - My Contact E-Mail