Join the Exeter Memories
Group Page
The Royal Albert Memorial Museum closes for refurbishment
Friday 30th November 2007
Click on a picture to enlarge
Also see History of the RAMM
RAMM 1979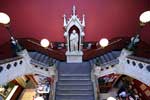 The grand staircase with the statue of Prince Albert in pride of place. Originally built as a memorial to Prince Albert, the museum has been a centre for education in Exeter since 1869. Various plaques and busts to eminent Exeter worthies, who promoted the museum, were on display on the walls of the entrance and landing area.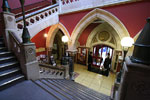 A doorman shows a visitors out of the museum during the last week.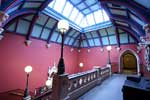 The dark red walls and blue paintwork is a rich combination of colour in the landing area. It will be interesting to see if this wonderful entrance space is retained in the 21st century museum.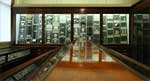 The Sladen Gallery was a celebration of Victorian Britain's thirst for maritime, scientific expedition. Preserved creatures from the oceans of the world were on display; many were collected by HMS Challenger during 1872, when she set sail for a 68,000 mile journey around the world with a team of scientists led by Professor Wyville Thomson. The expedition trawled starfish up from Sydney Harbour, jellyfish from a thousand fathoms in the Pacific and specimens from Japan, Hawaii and Patagonia. Walter Percy Sladen, a gentleman biologist, owned Northbrook House at Countess Wear. He classified many of Challenger's starfish, and was the eminent expert in his field. I hope the museum integrates the story of the Challenger into the display of this collection when they re-open in 2010.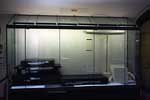 When I visited the museum to take these photographs on the 29th November, work was well advanced at emptying the displays and storing the exhibits - this is the Islam glass case emptied of its artefacts.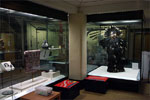 Another area, the World Culture gallery, with some thin displays, as the staff have removed and stored many exhibits. A costume and head dress from a mysterious and exotic place somewhere in the tropics, that can be reached in a few hours by Airbus is still on show.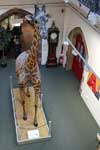 A photo essay of the RAMM would not be complete without the old favourite, Gerald the Giraffe. Within days of the final closing, Gerald was supported with packing and carefully tipped over in preparation for moving from his gallery.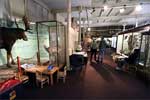 A view down through the Natural History gallery - visitors were still browsing the many exhibits before final closing on Saturday 1st December 2007.

If my memory serves me correctly this is the tiger shot by King George V. A favourite with children, it is one of the stars of the Natural History gallery.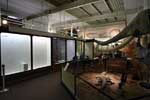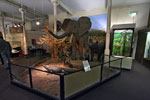 In the Natural History gallery the large African tableau was still in place - an evocative little grouping that is as far from the reality of African wildlife as Prince Albert was from being a mill worker.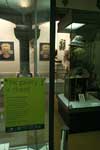 A This gallery is closed poster on a glass cabinet warns off the visitor from this section of the World Culture gallery.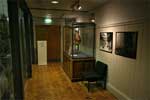 One of the small corridors with a large glass walled storage area (at least it always seemed to be used for storage) and the odd photograph and isolated glass cabinet.
│ Top of Page │